About MGM Institute of Health Sciences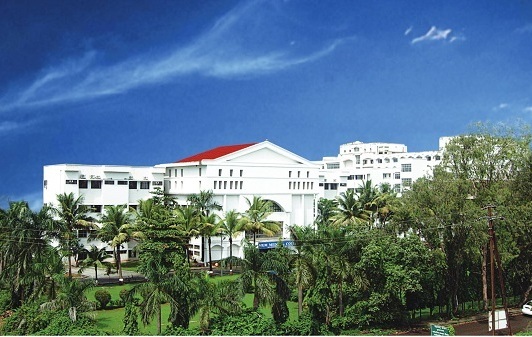 BEGINNING OF MAHATMA GANDHI MISSION TRUST
The Mahatma Gandhi Mission Trust is the parent body of MGMIHS which was established in 1982 by Hon. Shri Kamalkishore Kadam with a futuristic vision to provide qualitative education by applying innovative and dynamic pedagogical techniques. Since inception, the Trust has focused on providing Health Care Services, School Education and Higher Education with dedication and commitment. The MGM Trust was established in Nanded, Maharashtra and in the course of time it extended its services to Aurangabad, Navi Mumbai and Parbhani in Maharashtra and Noida [New Delhi] in Uttar Pradesh.
A chain of Schools, Engineering, Architecture, Medical, Nursing, Management, Computer Science & IT, Bioinformatics and Biotechnology, Fine Arts and Journalism stand testimony to the endeavours of the Trust.
All these Institutions are run under the able guidance of Shri Kamalkishore Kadam, M.Tech. (IIT-Mumbai), Chairman of the Trust and Ex-Minister of Education, Maharashtra and the trustees Shri Ankushrao N. Kadam (B.E.) , Dr. P.M. Jadhav (FRCS, U.K.), Dr. S.N. Kadam (FRCP, Edin.), Dr. Nitin N. Kadam (MD, DCH) and Shri U.N. Kadam (B.E). The Institutions under MGM Trust have achieved a mark of excellence in their respective areas over the years.
The MGM Deemed University has been notified as a Deemed to be University i.e. "MGM Institute of Health Sciences" vide Notification No. F.9-21/2005-U.3 (A) dated 30.08.2006 issued by the Government of India, Ministry of Human Resource Development, Department of Higher Education, New Delhi.
Two of its Medical Colleges at Aurangabad and Navi Mumbai were accorded the status of Deemed to be University and Mahatma Gandhi Mission Institute of Health Sciences (MGMIHS) started officially functioning in 2006.
Highlights
Dr. Mansee Thakur was nominated in Kamala Bhagwat Sohonie Science Shiksha Shodkari Mention 2022 on occasion of International Day for Women and Girls in Science 2022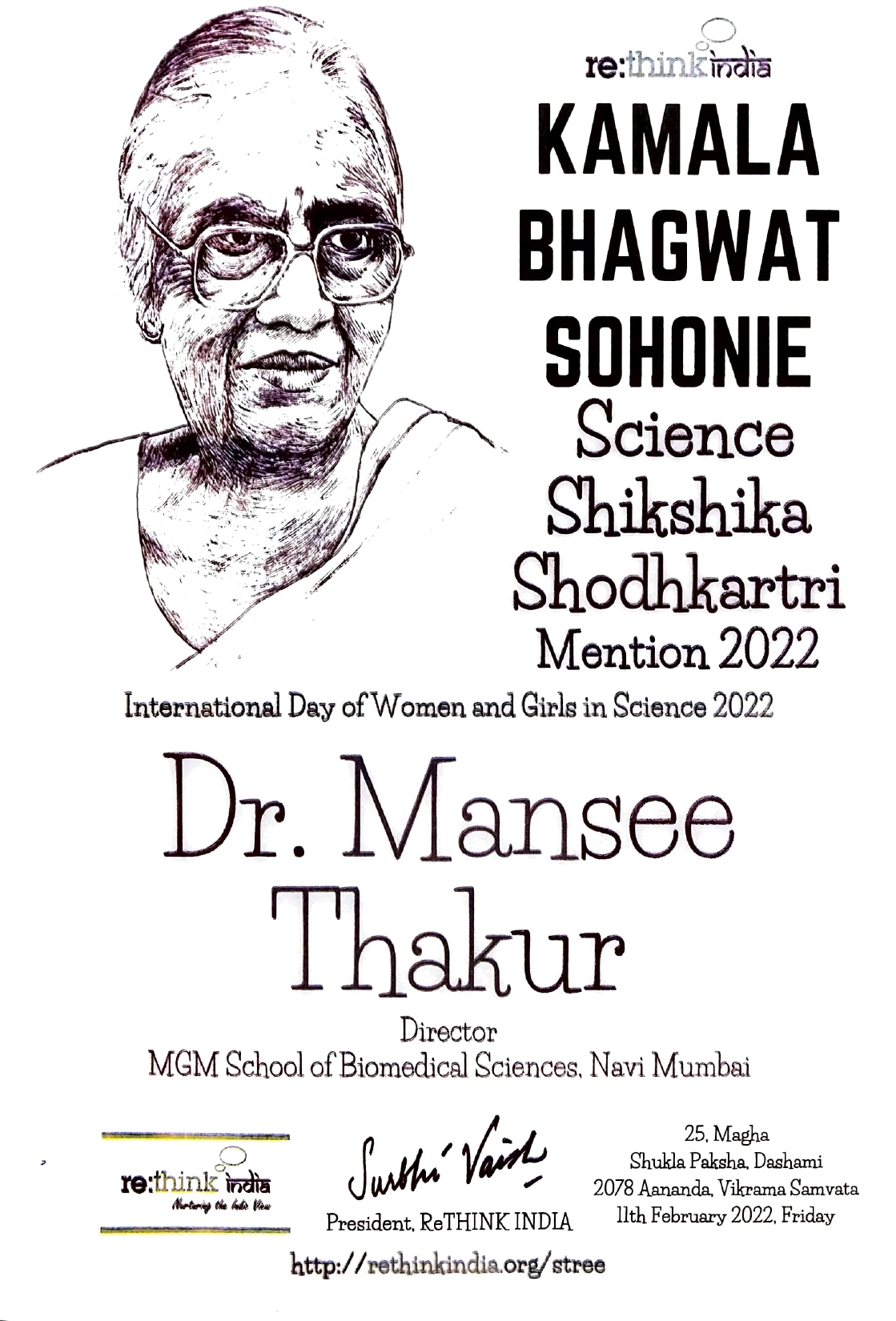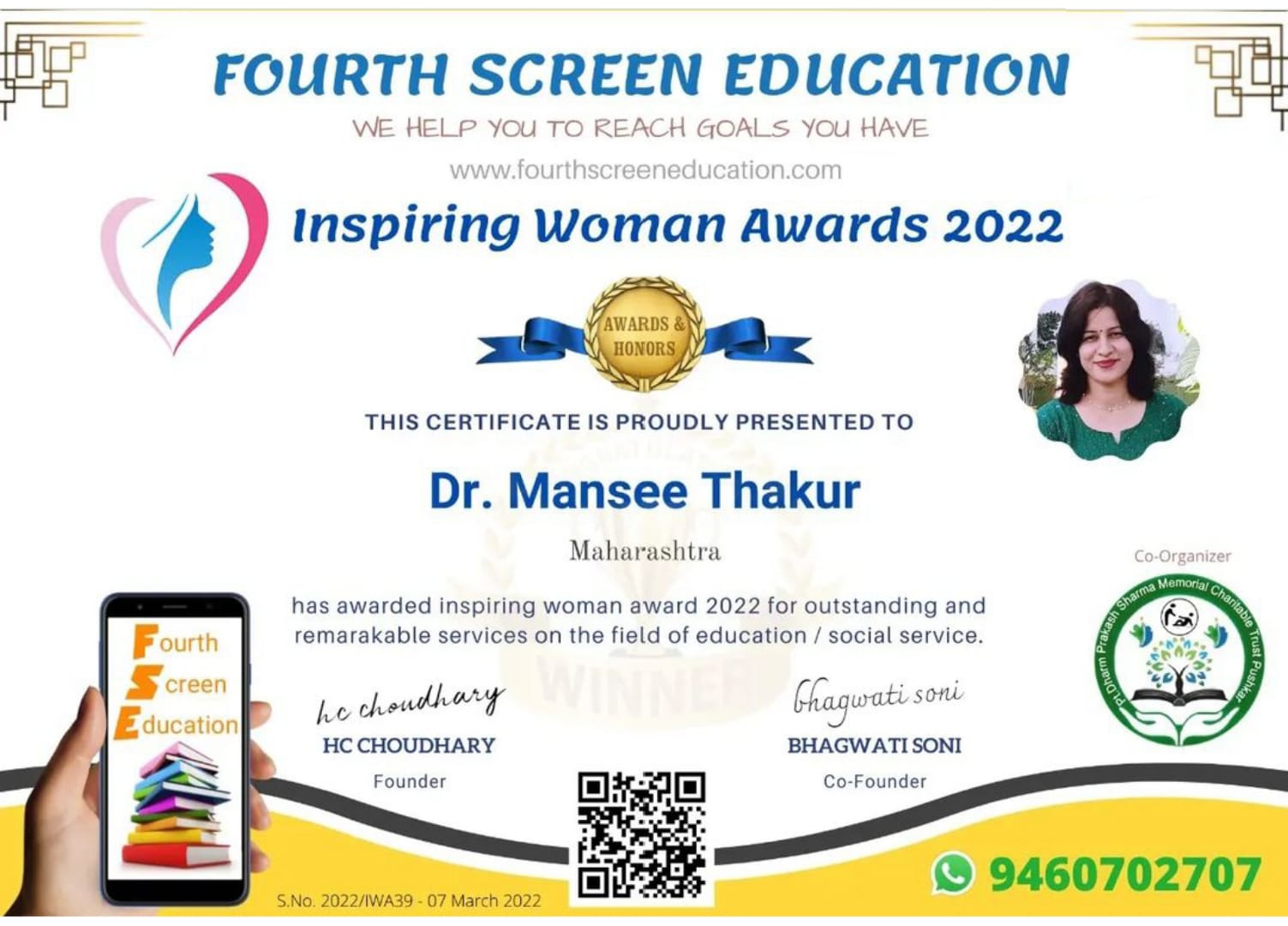 Patent
Patent
Patent
Patent
Patent
Testimonials
My experience in the MGM College Kamothe was tremendous. I found the course curriculum to be very challenging but rewarding. My degree in Cardiac Care Technology provided an great knowledge with I had many professors in the college who inspired my best efforts and who helped me greatly ( All Cardiology Department ) provided the needed challenge in each course, but not without the support to succeed.
I use the knowledge and skills I learned in the MGM College every day. After completing the course I pursued Master in Cardiac Care Technologist for two years . I got many job opportunities , I worked at Jupiter hospital thane for 4 years as Cardiac Care Technologist .
Now presently I'm at Europe doing MBBS MD Physician 👩‍⚕️. I am confident that those students who take their courses seriously, will be rewarded the rest of their lives. Thank you 😊

"
Ms Diksha Bansode
— Masters in Cardiac Care Technology
I pursued my MSc in 2013 & PhD in 2019 from MGM School of Biomedical Sciences. MGM gave me numerous opportunities to engage in different activities along with studies & research projects. MGM experiences has improved my practical skills, presentation skills, communication skills & boosted stage confidence. It was great working under the guidance of an eminent personality of MGMSBS, Dr. Mansee Thakur as she was always kind & supportive. Along with curriculum, she also introduced me to Heartfulness Meditation which helped me a lot during my PhD Program as well as in my personal life. MGM Central Research Laboratory & School of Biomedical Sciences have very talented and encouraging staff members.
I am very grateful to Dr. Mansee Thakur that she accepted me as a part of MGMSBS and supported me throughout my journey.

"
Dr. Smital Kulkarni
— PhD Medical Biotechnology
"Unplanned journeys are the best journeys you can ever experience," as the saying goes, and getting into the School of Biomedical Sciences was one of those. I had a fantastic time learning from some of the greatest minds. They concentrated not only on academics but also on overall development.
The institute is excellent for research, and the department of Medical Biotechnology hosts a variety of institutional and state-level seminars featuring eminent scientists and scholars from across the country and abroad to help you sharpen your skills.
If you enjoy conducting research, this is the institute for you; your curiosity is highly valued here. The overall research study is strictly adhered to MCI and ICMR guidelines that generates best and authentic research work. Stay Curious and Happy Learning!

"
Tarun Parihar
— Department of Medical Biotechnology, MGMSBS MGMIHS Navi Mumbai
I had completed my master's from MGM School of Biomedical Sciences in Clinical Embryology (Batch 2019-20) . It was great fortune and luck to be a part of this University. It had been a great experience at MGMSBS. The entire faculty and department leaves no stone unturned to shape one's future. The curriculum is well-structured, and it provided me with wonderful learning experience and to get in touch with nations best embryologists. I have a lot of respect and love for the entire MGMSBS academic staff, Department of Clinical Embryology (especially Dr. Mini Mol, I/C Dept. Clinical Embryology) and The Director, Dr. Mansee Thakur. She is very kind and helpful. I really admire her. It is due to their efforts that I consider myself to be a better professional

"
Miss. Rafiya Shahid Hussain Sangameshwari
— M.Sc. Clinical Embryology
I pursued my Masters in hospital administration from MGM School of Biomedical Sciences which was a full time two years course. The course is well structured with well educated faculty members to guide us. It's a great opportunity for us to get clinical experience to accomplish hospital administration aspects of each department, which gives us bigger perspective of critical thinking abilities as well as to be a good administrator to manage hospital functioning. After completion of my course I am working with S.L. Raheja Fortis hospital in nursing administration department in training and development section.

"
Lekha Rakesh Bangar
— Nursing Administration S.L.Raheja Hospital.
I pursued my MSc in Clinical Nutrition from MGM School of Biomedical Sciences which was introduced two years back in institute with highly experienced faculties. Our college is well equipped with the facilities that bring about the best in us. Our dedicating teachers makes the Msc students feel that they have selected the exact and the best college. Also with hands on experience with MGM hospital we got a good clinical exposure. Currently I am working with Fortis Hiranandani hospital as a Full time Dietician.

"
Ms. Vandna Lalchandani
— Msc. Clinical Nutrition
Ms Pratiksha Gondkar, I would like to express my sincere gratitude to MGM SBS to get the Bachelors degree in MLT and helping me at each and every step of my career. I thank our Director, Dr. Mansee Thakur Mam and the Co-ordinator of MLT Anamika Chalwadi Mam, HOD'S and entire team of MGM SBS who always supported and motivated us to have a positive attitude who always pushed us to improve our attitude, knowledge and perception better than before. 1 Year internship has helped me gain not only theoretical but also practical knowledge. The Institute provided me the best platform and infrastructure to excel in many career interest. Now, I am working as Lab Technician,in TATA MEMORIAL HOSPITAL ( ACTREC), KHARGHAR. I'm always thankfull to MGMSBS

"
Ms Pratiksha Gondkar
— Lab Technician,in TATA MEMORIAL HOSPITAL ( ACTREC), KHARGHAR
Studies at MGM UHS provided a positive outlook towards lifeI completed by bachelors in Perfusion technology from MGM SBS, Kamothe in 2017.The studies at MGM made me recognize my potential which was hidden in me. Teachers are versatile and teach you not only syllabus but also various values of life. They taught us to never give up on our dreams and always work hard towards them. Later I received a scholarship and I presently pursuing my medical studies in Europe free of cost. The base of medical knowledge that was laid down from MGM not only made my studies but also helped me to attain a good percentage of 95 in main examz.
Thank you.

"
It has been a wonderful experience in being a part of the MGM School of Biomedical Sciences. The two year course of Biostatistics has not only enhanced my theoretical knowledge but also expanded my practical approach. It gave me an opportunity to practically apply the statistical skills in the actual scenario. Dealing with and helping the students and experts in the statistical approach in their respective research has helped me understand the subject more thoroughly. Getting hands on experience in teaching and making the students understand my subject as well as the Statistical Software has not only deepened my knowledge in my area of expertise but have also groomed up my teaching skills. Special thanks to professor and Head of the department of Biostatistics Dr. Rita Abbi. She has being my inspiration throughout my journey in MGM. Also, I am very thankful to the Director Dr. Mansee Thakur and all the professors who have taught me. They have not only helped me grow academically but also as an individual. I am happy that I took the decision of pursuing the course in MGM.

"
After pursuing MBBS, I decided to pursue Master in Public Health, from MGMIHS. During my final year of MPH, I got the opportunity to join as a tutor in Department of Community Medicine, MGM-Navi Mumbai. I feel privileged to have gotten this opportunity in my final year of masters. School of Biomedical Sciences, MGMIHS, has always been successful in providing me with a varied platter of opportunities as a student and even as a professional. They have always focused on overall development of the students. My gratitude always lies towards Dr Mansee Maam (Director, SBS, MGMIHS) and the entire team of SBS, for promoting my inner talent and opening up several opportunities for me.

"
I completed my Undergraduate Education in the form of a Bachelor's degree in Cardiovascular Perfusion from MGMSBS and am forever indebted to this institution and its faculty for the training and knowledge it imparted upon me as a student. It's state of art infrastructure and unorthodox teaching methodologies give an edge off the usual experience a UG student can ask for. A place where I got the freedom to explore ways to help serve a patient for the ultimate good of an extended quality of life. MGMSBS is my parent institute and as a former student , it feels as a second home.

"
Jai Javeri
— Bachelor's in Cardiovascular Perfusion
I was first sceptical to join MPH as I was the first student to enrol for this course in MGM School of Biomedical Sciences. But Dr. Mansee Thakur, Director MGM School of Biomedical Sciences, Navi Mumbai and Dr. Prasad Waigankar HOD Community Medicine, MGM Medical College, Navi Mumbai assured me that this would not hinder in the process of learning. The 2 years in this course exposed me to the field of public health in various ways. I experienced all what I had learnt in our textbooks during our field visit. Our professors were kind enough to entrust the role of managing the entire UHTC/RHTC during our monthly postings. As a Supervisor and Co-ordinator, we were involved in the implementation of National Health Programmes in the community. We were also encouraged to attend the weekly seminars for Community Medicine Residents at various Government Medical Colleges in Mumbai which motivated us to work even more. Courses in Biostatistics, Research Methodology and SPSS has helped me improve my knowledge in statistics which thus, helped me in my Research. I am happy for the decision I made then, due to which this course could be implemented. My heartfelt gratitude to the entire teaching and non-teaching staff of MGM School of Biomedical Sciences, Navi Mumbai who were always there for us whenever we faced any difficulty.

"
Dr. Priyanka Mary Wilson
— Master of Public Health
It was 2019 and our Director Ma'am had Planned to visit Kanha Shanti Vanam. We have no clued how it would influence our lives. I went there as a young boy, little did I know that this whole experience will change my life. At Kanha, we learned meditation at a very different level. It taught us about the divine energy and also the use of our subconscious mind. We won several prizes in sports, play and quiz and many more. I started to concentrate on academics on a level. I discovered that my mind was free of ripples and I could open up more. All around me was a healthy competition and a Beautiful world. The confidence level and positivity of mine was at the peak where the negative had no chance to take on us. It was the best experience of my life. The confidence level and positivity of mine was at the peak where the negative had no chance to take on us. It was the best experience of my life. I want to thank our Director Maam for this wonderful experience that she gave us by taking us to this magnificent place.

"
Atharva Dehadraya
— B. Optometry student
Myself Pranav Kolge, last year me and my batch mates visited Kanha Shanti Vanam, but the truth was we went there just because of our Director Dr Mansi madam took us. So I went there as a young inexperienced boy who had no idea about my life. We did have a few meditation sessions in our college in which honestly I used to sleep. But when I stayed in Kanha, it was a very different experience. I was very much confused about my choices in life be it a career or any other thing. After visiting Kanha in Hyderabad, I visited more similar sessions here in Navi Mumbai with my friends. The more I attended the sessions additionally I was developing in all aspects academics, life & whatnot. I became much more of a social person. Now I have more friends from different walks of life.
Kanha Shanti Vanam changed me as well as my batchmates. It taught us a true value of friendship, teamwork and cooperation. After months I saw changes in me and friends as well. We won several prizes in sports, quiz competitions and even in the drama which we never had a dreamed of. All thanks to our director madam for taking us to Kanha Shanti Vanam, believing in us and motivating us to face various challenges.

"
Pranav Kolge
— B. Optometry student
Inner peace, Leads to world peace!
In the month of February 2019 our institution gave us an opportunity to Visit KANHA SHANTI VANAM i.e. Global Heartfulness Meditation center with a state of art infrastructure.
We were all been taught and imbibed how meditation in the heartfulness way can change a person's life and find a purpose of living. Personally sharing about myself. After visiting the global center, i used to practice a daily meditation of 15-20 minutes. And after practicing it for a year and a half, i myself analyzed what all changes have been seen.


Purpose of living.
Clarity of thought.
Perspective for humanity.

Since then, I've been volunteering in two NGOs


Robinhood Army
Switch India organization

Were we mainly contributing our manpower for hunger, education and moral values for the society.
Thanking you

"
I pursued my B.Sc. Medical Dialysis Technology from MGM School of Biomedical Sciences in 2017 which was a 3 year course and currently I am working as Tutor and Coordinator in this same institute for B.Sc. Medical Dialysis Technology. This institute has always allowed me to master my clinical skills, along with the studies with productive efforts of my faculties and ourinstitution. I owe my heartfelt thanks to our Director, Dr. Mansee Thakur who discovered the hidden talent of teaching in me & gave me the golden opportunity to work with this institute. I am honoured to work with such a great Director and dynamic institute.

"
Mr. Pratik Morade
— B.Sc. Medical Dialysis Technology
MGM school of Biomedical sciences was my first stepping stone towards my future. I pursued my Bachelors degree in Medical Imaging Technology from MGM School of Biomedical Sciences in 2017 which was a 3 year course and currently I am pursuing M. Sc. Medical Radiology technology in this same institute. Also currently I am working as Tutor and Coordinator in this same institute for B.Sc. Medical Imaging Technology. In this due course of time my Institute taught me many things and i.e. how to develop my personal skills, my mind set towards other people and my perspective towards life changed a lot.

"
Mr. Shubham Sawal
— B.Sc. Medical Radiology and Imaging Technology
I received my Engineering degree from University of Mumbai & pursued the course at MGM College & Engineering followed by Master's degree in Biotechnology. I joined as a PhD scholar in MGM Institute of Health Sciences & currently I am working under the guidance of Dr. Mansee Thakur.
Working under (Prof.) Dr. Mansee Thakur is a great experience & an opportunity to engage and initiate in multiple research topics & collaboration as she always encourage us to explore new fields in order to get a broader prospective & bring together new ideas & methods in order to solve interesting problems. I am associated with her from past 3 years and had filled 2 Patents for products under her guidance.

"
Mr. Yogesh Rathod
— Ph.D. Scholar, Dept. of Biotechnology